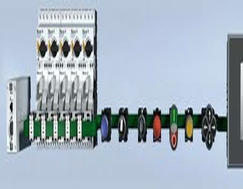 We at Clan Engineering Ltd have over 30 years experience in the electrical and automation industry.
We have expertise in the recycling of metals, plastics and media plant separation systems.
We have supplied and installed systems at home and abroad including Finland and Columbia.
We specialise in the support, supply and integration of the latest Eaton automation equipment including
XV-400, XV-300 and XV-100 series HMI/PLC, XC-200 series PLC controllers.
We have been an Eaton approved solutions partner for the past 5 years.
We can supply XN-300, XION and XIOC input and output modules and have extensive an knowledge base for Eaton Smartwire-DT technology.
IEC 61131-3 CoDeSys 2.3.9 and CoDeSys 3 software suppliers
We are system suppliers and integrators of the XV-300 range on PLC which features multi touch HMI/PLC control and HMI Galileo software.
We can supply the XC range of rear mount controllers
We have extensive experience with Eaton XION compact I/O system
We can supply the new XN-300 range of compact I/O
We can supply the latest 3S CoDeSys software and targets for the full range of Eaton controllers I /O compact I/O system
We can also upgrade or support your legacy automation installations such as the PS4 range of controllers